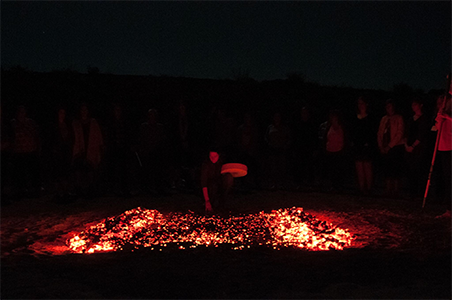 Sundoor Firewalk Instructor Training with HeatherAsh Amara, Peggy Dylan, and Stephan Mulhearn
This energizing six-day / five-night retreat will be juicy and beneficial for anyone, whether you have been teaching for 30 years and want to be re-inspired or deepen your community, if you are exploring moving towards a path of service, or if you want to commune with fire.
Whether you are currently leading workshops or trainings, or you are just beginning your leadership in this work, we have designed a training that will activate, educate, and ignite personal and community transformation.
While others are constricting trainings like this to fewer days with a lighter touch, it is our belief that to truly honor the power of what we do, we need the stable boundary of 6 full days to deeply connect with ourselves, with one another, and with the generative nature of firewalking.
Come rest into a sacred, healing container while you build invaluable leadership skills, connect with your own inner fiery guidance and intuition, and experience the most potent, life-changing tools to teach and/or further your own journey.