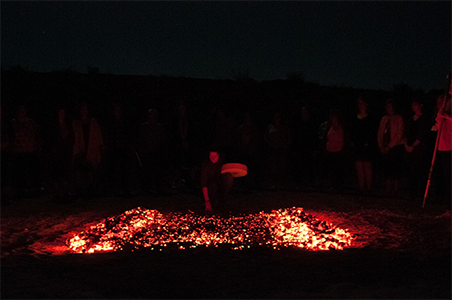 Sundoor Firewalk Instructor and Empowerment Coach Training
The Firewalk Instructor Certification and Coach Empowerment Training is for anyone wanting to deepen your relationship with fire, empowerment, and healing. If you are interested, or know someone in your community who would benefit from being held in a context of personal transformation AND brilliant teaching, please read on!
This certification retreat blends the best teaching tips, marketing resources, and confidence-building support with personal processes that will shatter any of your lingering limitations and unlock your capacity to shine, shine, shine in the world!
This week is suitable for beginners and for experienced trainers desiring to add the firewalk to an existing seminar. It is crafted as a week of personal transformation and will also meet the needs of professional coaches who only offer the best to their clients and corporate groups. Even the most demanding trainers will be satisfied with this week of in-depth knowledge that is stamped with excellence and integrity. It is, in short, the best and most complete education you can receive.
When you graduate you will have at your fingertips all the resources of the SUNDOOR firewalk graduate body and the support of the Sundoor office to help guarantee the success of your groups. Amaze yourself with this training and build the foundation for a life of wonder, success and contribution.
This journey includes:
– 7 nights accommodations, double occupancy*
– 3 meals a day featuring delicious, healthy and traditional Mexican food (can accommodate special diets)
– Ground transportation to and from Mexico City Airport
– Teaching materials and manual